hair paths
Let's get you started
FOR PURPOSE AND RELAXATIION
Designed to transport you to a beautiful place of bliss, the hair and scalp are detoxed and rehydrated with organic and natural ingredients. Enjoy a Scalp & hair massage with a hot aroma towel accompanied by the power of a crystal wand massage. You can choose to finish with a gentle blow-dry & style or replace with a follow-up washing regimen for maximum healing capacity.
Deluxe: $185
Spa: $125
Mini: $85
ALL THINGS COLOR
Whether in need of a root touch up, or a complete make-over, abl will find the perfect shade for you. All hair color products are clean sulfate and parabens free. No ammonia.
Painting: $115+
Single Process: $95+
Root touch-up: $65+
Color correction: $200+
Add gloss: +$35
SNIP SNIP
Time for a change? We can take off an inch, or cut it all off. Men and women are both welcome.
Women: $110
Men: $75
Bang Trim: $20
Welcome to the "Hair Plane"
SNUGGLE UP & RELAX WHILE GETTING YOUR HAIR WASHED AND MASSAGED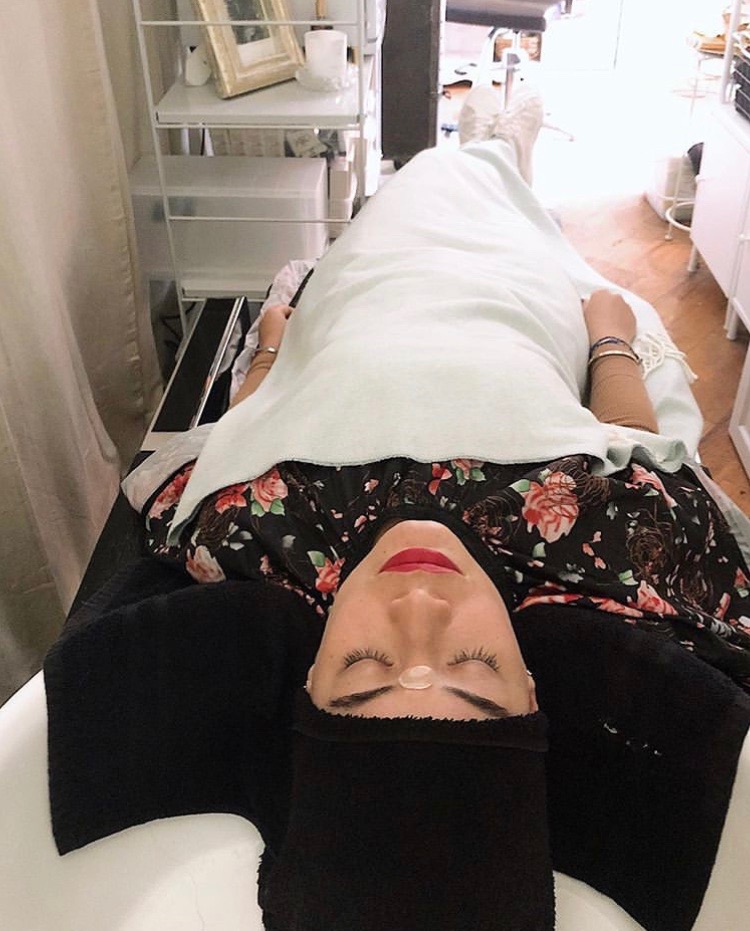 All hair washes at abl studios are done on our BioMat infused hair bed. You heard that correctly. Instead of the normal hair sink featured at every other salon you have gone to, we have taken the worst part of the salon experience and turned it into what we like to call "The Hair Plane." The Hair plane experience has been designed to allow you to embrace one of the most looked over salon moments, a hair wash! Do you remember those neck crunching hair washes, where you WISH you could relax and enjoy but were too taken back by the jabbing sink in the back of your neck? Because we do not…anymore! At our hair oasis, Lie horizontal, feet up and jabless!
Relax & truly enjoy the sensory activated service as you fly first class on the hairplane. Your vacation destination is waiting on the other side. Take a peek…
Elongated Bed in replace of a chair for client to extend horizontally with wool blanket
Heated 7000 MX Richway BioMat laced with amethyst and tourmaline crystals
pH balancing crown massage All-Natural and pH balancing ingredients from scalp to ends to achieve a renewed state of consciousness.
Hot towel / Aromatherapy Release tension with seasonal scented hot aroma towel.
Tea & Herbs
Get your herbal fix
Did you know that the antioxidants & vitamins found in herbal teas help to fight disease & infection? As tasty and calming as a blend can be, the "Tea Time" ritual is also a moment that represents a moment for yourself, a break if you dare… friendship & coming together. Making Tea in some cultures is equivalent to saying "I care about you".
Sit back, relax and sip on a carefully blended herbal tea fusion by your friend & hair healer. Whether your waiting briefly and transitioning from the day or processing during your appointment. Hot/cold and infused with CBD honey if desired, your nervous system, skin and heart will be thanking you!
Seasonal Blends:
Isn't it romanTEAque | Heart activation
Designed to bring you in touch with your goddess energy & connect to your heart, bringing forth abundance & self love.
Egyptian Mint, Rose petals & Tusli.
UnforgetTEAble | Sacral activation
Focusing on creative and sensual energy as well as our connection to others. Flow back to sacral chakra health while centering.
Marigold, Blue cornflower, Jasmine, Butterfly pea pods, fennel seed & ginger root.
MINTerest | Crown activation
Tune directly into your highest self as you feel a sense of completion and consistent state of bliss during and after sipping on this blend.
Rose, Mint, Egyptian mint, Blue cornflower, balanced with lavender & pinch of nutmeg.
FantasTEA | Root activation
Feel this energy center of the body feel balanced as you begin to ground and become in tune and exploratory with your own inner world.
Hibiscus, Rose petals, clove, ashwaganda, chamomile.
The abl Library
No gossip magazines up in here!
Leave a book, borrow a book, learn something you didn't know!
Forget yesterday's beauty magazines that do nothing for our own personal growth. Help yourself to abl's intimate collection of coffee table books, inspirational and artistic reads. Whether you're waiting or processing, let your hands reach for something that may have been calling you; perhaps a book you wouldn't read anywhere else. Remember you are here for YOU, so give yourself permission to feed the soul and soak up the self love... if you love a book and feel as if your not ready to let go, Just ask your hair healer to sign the book out until your next session! Drop a book to be shared if your finished & think it will continue to be of service for others.
you may want to reach for:
The book of Ikigai - Ikigai, meaning "reason for being". A Japanese inspired book, sharing personal development tools and the secret to a long and happy life. You're bound to take away a little something in just a few pages.

The Healing Art of Essential Oils - Gain more knowledge on aromatherapy and the energetic vibrational aspects of essential oils! Become your own alchemist within a few sessions!

Elemental Energy - A perfect combination of full-color photography with innovative practices, tips, and techniques for harnessing the transformative energy of crystals and gemstones for optimal wellness and beauty!
"
Brianna and the abl team have been the "Hair couple therapists" I never knew that I needed. You think you understand what your hair needs…but with enough bad hair days, you start to re-think your relationship.
/ Kim T. /